Comrie Angling Club
Great news on the Earn Classification - Marine Scotland has re-examined the situation, and has put the Earn in Category 2 for 2017.   This means that the compulsory return of all salmon and grilse to the water will no longer apply.   A Conservation Plan will have to be devised, and members will be kept in touch with progress on this via the website.
<![if !vml]>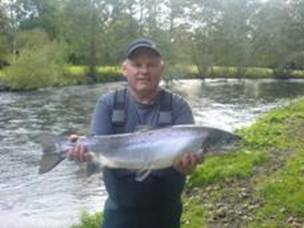 <![endif]>
Rules (Members)     Rules (Day Tickets)
For information about the Club, or about fishing around Comrie, please contact the Honorary Secretary.
Pat Silvey
e-mail : pat@ruchil.co.uk
Tel : 01764 679854.
Last season was pretty successful, with salmon to 30lb, and seatrout to 8lb, as well as an 8lb brownie, reported.
Water Levels (From SEPA):
River Ruchill : http://apps.sepa.org.uk/waterlevels/default.aspx?sd=t&lc=14965
River Earn : http://apps.sepa.org.uk/waterlevels/default.aspx?sd=t&lc=14966